Southeast Asia has become the hotspot for regional music festivals
For music lovers who also enjoy a little bit of adventure and travel, Asia has much to offer in terms of festivals in the upcoming months. From the jungle of Borneo, to the beaches of Bali, to the seas around Singapore, there is no shortage of destinations. And there is no shortage of music styles, with some festivals focusing on EDM, others traditional music, and still others just a little bit of everything.
The following is just a small taste of the music festivals taking place in East and Southeast Asia.
Rainforest World Music Festival – Borneo, August 5-7
The Rainforest World Music Festival is a unique world music experience set against the backdrop of the Borneo jungle. The fest brings musicians – many indigenous – from all over the world including Haiti, Malaysia, Indonesia, Colombia, Canada, Vietnam, and Greece. Also, many artists and musicians at the festival are native to Sarawak, the Malaysian state that lays claim to part of Borneo.
The event includes educational workshops in the afternoon, with performances to take place at night. It also includes a number of interactive arts and crafts booths, food and drink stalls, and places to buy festival memorabilia and Sarawak souvenirs.
The lineup includes Alena Murang from Borneo, Band Girl LKNS from Malaysia, Broukat from Syria, Chouk Bwa Libete from Haiti, Cimarron from Colombia, Derek Gripper from South Africa, Bol Arastra Beng Kulu from Indonesia, and Krar Collective from Ethiopia, among many others.
Tickets are RM 120.00 (KRW 34,400) for one day and RM 320.00 (KRW 91,800) for three days until August 4. After that they are RM 140.00 (KRW 40,175) for one day and RM 380.00 (KRW 109,000) for three days. There is also currently a flight and hotel package to the festival that offers a discount available through Expedia.com
To book tickets or get more information, visit the website at www.rwmf.net.
Summer Sonic – Tokyo and Osaka, August 20-21
Every summer, Tokyo and Osaka co-host the two-day Summer Sonic music festival, with all the artists going back and forth between the two cities over the course of the festival. The two locations offer festival-goers the option of two different experiences, with the Osaka venue at Maishima Summer Sonic providing a smaller, slightly cozier feel than Tokyo's massive layout at QVC Marine Field and Makuhari Messe. Also, the Tokyo site features more stages and more interactive areas, including a Beach Stage.
Both sites feature performances by Underworld, Radiohead, Fergie, Alesso, Weezer, R5, The Offspring, Pentatonix, Panic! At the Disco, Charlie Pluth, Baby Metal Flo Rida, Mark Ronson, and many, many more.
For the Osaka site, one-day tickets are 14,000 yen (KRW 160,000) and two-day tickets are 25,500 yen (KRW 291,000). There are also Platinum tickets available that offer exclusive access to VIP areas at each stage for 25,000 yen (KRW 285,000) per day. Tickets at the Tokyo site are 16,500 yen (KRW 188,600 won) for one day, 30,500 yen (KRW 348,600) for two days and 30,000 yen (KRW 342,900) for a Platinum ticket.
For more information or to book tickets, visit the festival website at www.summersonic.com.
Ultra Beach Bali – Bali, September 15-16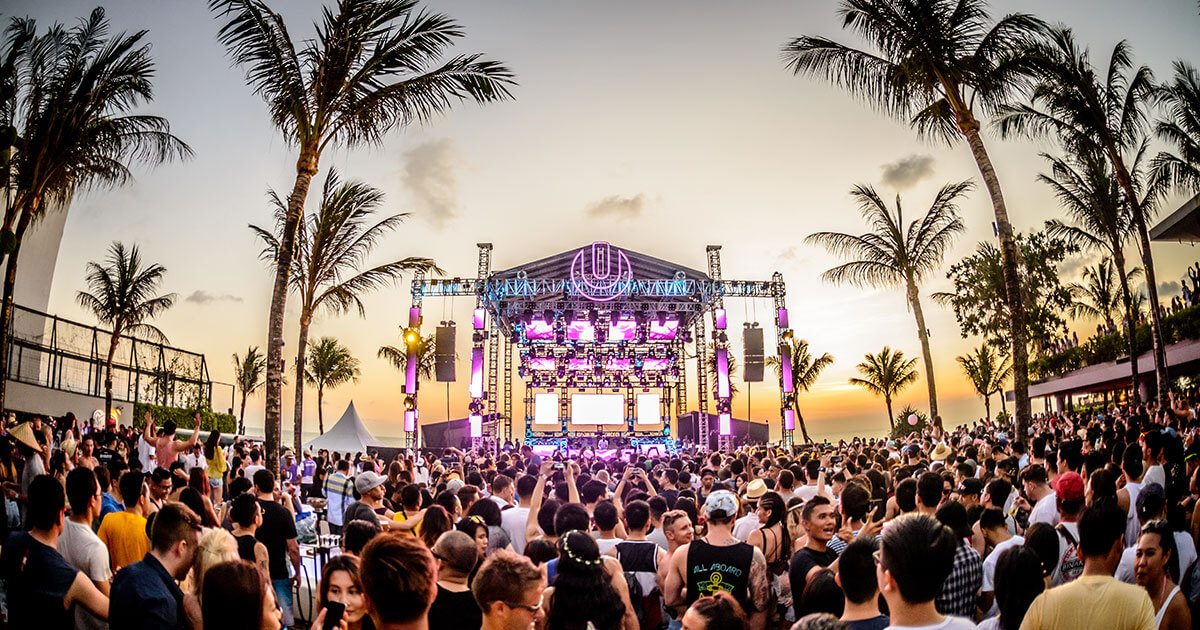 For those who missed Ultra Korea in June – or just want another taste – the massive EDM festival is continuing its tour of the world and landing in the resort city of Bali this September. Ultra Beach Bali is set for Potato Head Beach Club, offering sun, sand, and hard-hitting EDM.
The lineup has not yet been released by Ultra Worldwide, nor have the ticket prices; however, registration for early bird tickets is open. Last year's festival included headliners Alesso and Skrillex, and this year's lineup is sure to be strong as well.
Updates and ticket registration can be found at the festival's website at www.ultrabali.com.
It's the Ship – Singapore, November 4-7
Hailed as Asia's largest and the world's second-largest EDM festival cruise, It's The Ship is guaranteed to give EDM music lovers an experience to remember. Set on a luxurious Royal Caribbean International cruise liner over the course of four days, the festival is bringing together 60 EDM acts from all over the world, combined with a cruise vacation getaway.
The ship sets sail from Singapore on November 4 and cruises to Penang, returning to Singapore on November 7. On board, the festival includes, for the first time in its three-year history, themed nights with a group of Australian DJs from Lucky Ent. kicking things off by hosting the "Get Lucky" stage on the first night, which includes Kate Foxx, Joel Fletcher, Mashd N Kutcher, Some Blonde, and Brooklyn, to name a few.
Other acts include the debut of Sunnery James and Ryan Marciano's concept show Sexy By Nature, and Armada Night with Andrew Rayel, Marlo, David Gravell, Khomba, and Ben Gold.
Tickets for the festival include a four-day, three-night stay upon the ship, all meals including 24-hour room service, and complimentary use of most of the ship's facilities. The cruise liner has 17 clubs, bars, and lounges; 15 decks, 10 whirlpools and pools; and a new expanded casino and onboard shops. Tickets vary from $588 to $5,888 per person, depending on the room type and how many people the room accommodates. The cabins vary from two people up to four people and from normal state rooms up to suites with balconies.
To book tickets or for more information, check out the festival website at www.itstheship.com.
Story by: Emma Kalka
Photos by: The Livescape Group, Rainforest World Music Festival